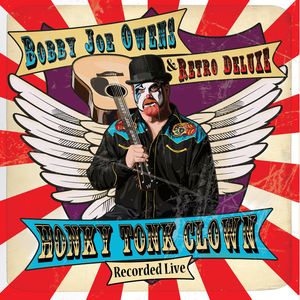 We've done did it again! Our NEW Album entitled "Honky Town Clown" is finally ready for release and I'm very pleased to announce and invite you to our CD Release Party at the Old Bowie Town Grille on Friday, February 26th at 8pm (Free Show)! This album was recorded live back in August (at the Old Bowie Town Grille) and is very diverse with 15 all new original songs (one written by my pal Marv Offutt) and 10 commentary tracks! Reservations are recommended for this very special event. Stay tuned for further details, but you know this is gonna be a HUGE Party and we'd love for you to be there! 
UPDATE: We will have the full Retro Deluxe Band on hand for the CD Release featuring Joseph Francis Goltz (Lead Guitar, Backing Vocals), Mike Guerrieri (Guitar, Backing Vocals), Miles Long (Upright & Electric Bass, Backing Vocals), Mike Mautino (Drums) including David Gorozdos (Keyboards, Vocals) and Special Guests Seth Kibel, Joseph Brotherton and Michelle Murray!!!!!!! 
"This album was recorded live at the Historic Old Bowie Town Grille (Bowie, MD) over the weekend of August 14th and 15th of 2015 in front of a live audience. The audience was asked to hold their enthusiasm until each take was complete and alcohol was added to loosen things up. We are a live show band and wanted this album to capture what it's like to experience one of our shows. A number of special commentary tracks were included because you never know what's going to happen in between songs. We laugh, we cry, we drink, we carry on, we tell stupid jokes and we love all of our friends and family who support us at our shows and online. Thanks so much to everyone who came out and participated in this very special live recording! It's all about the love! 


Yours truly, 
Bobby Joe Owens" 
Some of the best musicians and engineers from across the region participated in this project and we're all very proud of the results! 
Bobby Joe Owens, Lead Vocals 
Joe Goltz, Lead Electric Guitar, Harmonica, Backing Vocals  
Mike Guerrieri, Electric Guitar Acoustic Guitar, Backing Vocals  
Miles Long, Upright Bass, Electric Bass, Backing Vocals  
David Gorozdos, Keyboards 
Mike Mautino, Drums 
Seth Kibel, Saxaphone 
Joe Brotherton, Trumpet 
Michelle Murray, Duo Lead Vocals (Always Faithful) 
Produced by Bobby Joe Owens 
Music Arrangements by Retro Deluxe 
Horn Arrangements by Seth Kibel 
Recorded Live by Seth Donaldson at the Historic Old Bowie Town Grille (Bowie, MD) 
Engineered at Cabbage Run Records (Frederick, MD) by David Gorozdos 
Mastered by Chae Ham, Prodigy-Audible (Bowie, MD)